Trump Impeached On Charges Of Misuse Of Power, Hurdle Of Congress: WASHINGTON ― For the third time ever, the House of Representatives reprimanded the president, putting a perpetual reference bullet alongside the name of Donald J. Trump and making way for a Senate preliminary on expulsion.
House legislators casted a ballot Wednesday evening 230-197 for impugning Trump for maltreatment of intensity, with two Democrats — Collin Peterson (Minn.) and Jeff Van Drew (N.J.) — casting a ballot against denunciation nearby every Republican, Democratic presidential up-and-comer Tulsi Gabbard of Hawaii casting a ballot "present," and previous Republican (presently autonomous) Justin Amash of Michigan likewise casting a ballot to indict the president.
The House at that point casted a ballot 229-198 to denounce Trump on a subsequent article, obstacle of Congress, with each part casting a ballot a similar path aside from Rep. Jared Golden (D-Maine), who casted a ballot with Republicans on that charge.
"December 18: An extraordinary day for the Constitution of the United States. A pitiful one for America that the president's careless exercises required our presenting articles of reprimand," House Speaker Nancy Pelosi (D-Calif.) said during a news preparation not long after the votes were counted. "I couldn't be prouder or progressively enlivened by the ethical mental fortitude of the House Democrats."
Trump scholarly of the news while in front of an audience at a convention in Michigan on Wednesday night, and propelled into a nastiness filled tirade against Democrats, who he said were leading a "rebellious" exertion that would be a "political suicide walk."
"Each and every Republican decided in favor of us," Trump said. "We didn't lose one Republican vote."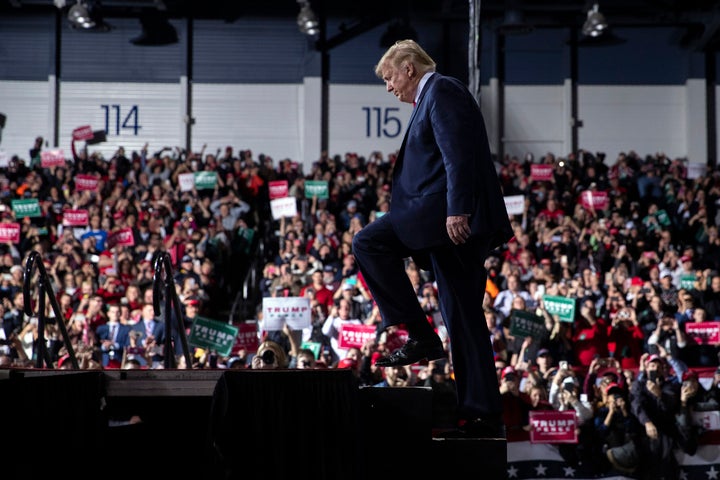 Democrats blamed the president for corruptly requesting an outside government to explore one of his boss political opponents, previous Vice President Joe Biden, and molding $391 million of security help on the dispatch of that examination. They likewise accuse Trump of "remarkable, all out and aimless resistance" as the House looked to research his conduct. The White House wouldn't turn over any reports identified with the arraignment request, and various Trump organization authorities disregarded subpoenas to affirm.
The key proof supporting Democrats' charge is a July 25 telephone call among Trump and Ukrainian President Volodymyr Zelensky. During that call, which occurred as U.S. military guide to Ukraine was suspended, Trump asked Zelensky to "help us out" and investigate assumed Ukrainian impedance in the 2016 U.S. political decision — an exposed paranoid fear — just as exploring Joe Biden and his child Hunter. Republicans see a harsh transcript of the call as exculpatory, while Democrats consider it to be clearly cursing.
"In America, nobody is exempt from the laws that apply to everyone else," House Intelligence Chairman Adam Schiff (D-Calif.) said on the floor Wednesday. "Donald J. Trump relinquished our national security with an end goal to cheat in the following political race. Also, for that and his proceeded with endeavors to look for remote impedance in our races, he should be indicted."
Democrats looked to keep up a solemn tone. Pelosi, who wore all dark, announced toward the start of the day that she was "pitiful" and said on the floor that Trump "gave us no decision."
"On the off chance that we don't act now, we would be abandoned in our obligation," Pelosi said. "Unfortunately the president's crazy activities make denunciation vital."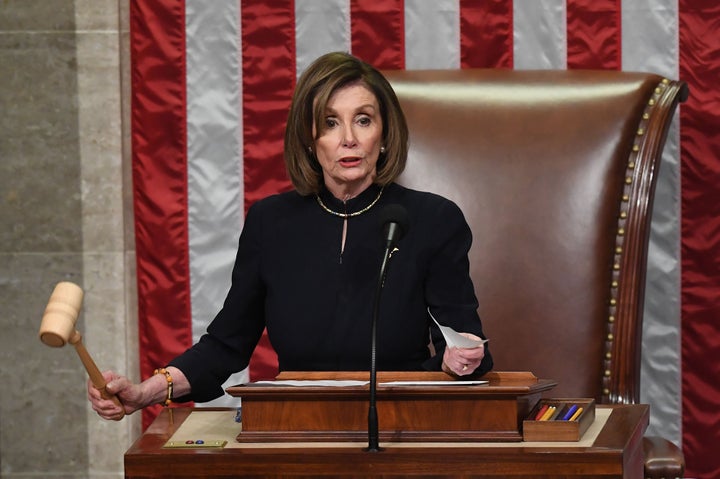 Pelosi noticed the nonattendance of one conspicuous legislator during Wednesday's votes: Rep. Elijah Cummings (D-Md.), who led the House Oversight Committee until his demise in October.
"We did everything we could, Elijah," Pelosi said. "We passed the two articles of denunciation. The president is indicted."
Over and over, Democrats offered this was a serious event. In any event about six Democrats portrayed the denunciation as a "pitiful day." They abstained from taking triumph laps.
Be that as it may, the day was as yet set apart by partisanship.
On the Republican side, GOP individuals offered unhinged safeguards of the president. They railed against Democrats over the procedure — at a certain point, Rep. Barry Loudermilk (R-Ga.) asserted that Jesus Christ had gotten more fair treatment than Trump — and they blamed Democrats for having chosen to arraign the president even before he got down to business.
This "weaponized reprimand" was brought upon the House by "similar communists who compromise unborn life in the belly, who undermine First Amendment privileges of traditionalists, who compromise Second Amendment securities of each American loyalist, and who have quite a while in the past discovered that they would sort out and contrive to oust President Trump," Rep. Earth Higgins (R-La.) said.
As he left the platform on the House floor, individual Republicans expressed gratitude toward Higgins. "Great discourse," said Rep. Subside King (R-N.Y.).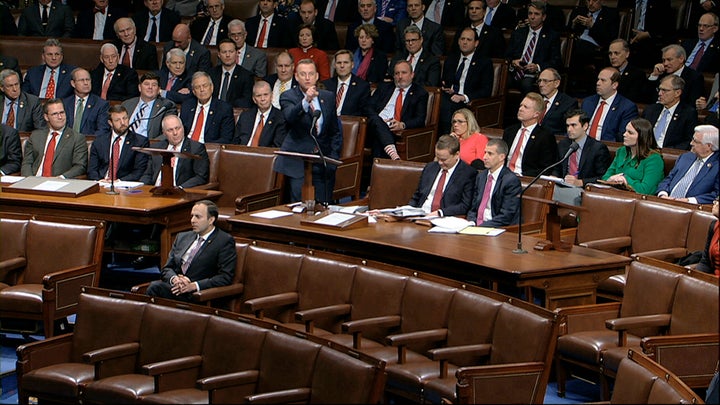 The Trump protection offered by Rep. Louie Gohmert (R-Texas) incorporated the case that then-President Barack Obama had allured Russia to attack Ukraine, which incited House Judiciary Chairman Jerry Nadler (D-N.Y.) to state it was worried to see a part "gush Russian purposeful publicity on the floor of the House."
Rep. Tim Walberg (R-Mich.) contended that history would not be caring to Democrats. "You are the ones meddling in America's political race," he said. "You are the ones subverting America's popular government. You are the ones impeding equity. You are the ones carrying agony and languishing to our republic over your very own narrow minded individual, political and divided addition."
Also, it wasn't only the GOP's periphery individuals who offered excited contentions. The periphery hosts assumed control over the Republican Get-together. It appeared on Wednesday that each GOP part who went to the floor was blaming Democrats for a "hoax indictment" or a "total act" or a "kangaroo court."
Republicans displayed the procedure as totally political while neglecting to recognize their own political inspirations for protecting Trump. Indeed, even as Rep. Fellow Reschenthaler (R-Pa.) censured indictment as a "political hit work," he said he would cheerfully arraign Adam Schiff for maltreatment of intensity and Democrats all in all for block.
Rep. Bill Johnson (R-Ohio) requested a snapshot of quietness for the 63 million voters who were being "disappointed" by denunciation. He didn't take note of that Hillary Clinton got about 66 million votes in the 2016 political decision. Furthermore, as Nadler brought up at one moment that another Republican said Democrats were attempting to fix the political decision, Vice President Mike Pence would essentially become president if Trump were denounced and expelled from office.
Strangely, Republicans in the chamber cheered at that line.
Republicans made game of scoffing at various lines close to the finish of the discussion. At the point when Majority Leader Steny Hoyer (D-Md.) said "Democrats didn't pick this indictment, we didn't want for it," Republicans moaned.
When Hoyer noted there was just a single part who talked on the floor who was not a Republican or a Democrat — Amash of Michigan — Amash's previous GOP partners jeered at his name, as well.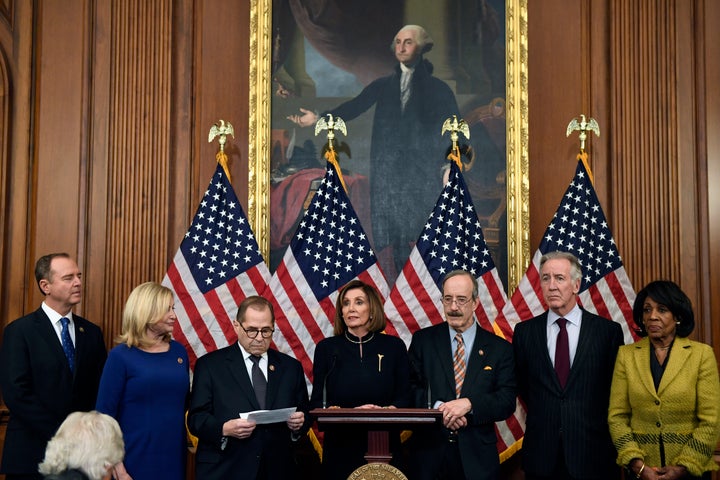 In truth, Trump faces little risk of being expelled from office. Senate Republicans appear to be resolved to rapidly vindicate the president, maybe without got notification from witnesses. Senate Majority Leader Mitch McConnell (R-Ky.) has made no mystery of his view that prosecution is political. "I'm not an unprejudiced member of the jury," McConnell said for the current week, including that he's been taking signals on a Senate preliminary from the White House.
McConnell announced a week ago that there was "no possibility" the president would be expelled from office, and he said Tuesday that the chamber would not call any new witnesses, notwithstanding a solicitation from Democrats to subpoena Trump associates who have so far wouldn't affirm. McConnell said that Democrats hadn't given "one strong explanation" why more authorities ought to be called under the watchful eye of officials.
During her public interview Wednesday, Pelosi said she wouldn't name any arraignment supervisors — the House individuals who might contend the case for reprimand to the Senate — until McConnell consents to a "reasonable preliminary."
"Up until now, we haven't seen whatever looks reasonable for us," Pelosi said.
However, Democrats chose it was critical to take such a memorable vote despite the fact that it appears to be sure to have little effect on Trump's conduct.
Just two other American presidents have been denounced: Andrew Johnson in 1868 and Bill Clinton in 1998. Johnson and Clinton were each absolved in the Senate. President Richard Nixon was on the cusp of being reprimanded in 1974, however he surrendered before a vote as a bipartisan tide of administrators betrayed him over the Watergate embarrassment.
"The designers gave us the intensity of prosecution for precisely this explanation," Nadler said Wednesday after the vote. "Today we made a move to consider President Trump responsible for the genuine and undisputed hazard he postures to our free and reasonable races, and to the partition of forces that shields our freedom. A President ought not be permitted to turn into a despot."
The noteworthy idea of the decision on Wednesday was clear. At the point when Democrats gave floor talks, many tended to their words to their kids and grandkids. After Rep. Joe Kennedy (D-Mass.) said that equity had won ― that the House had carried out its responsibility, kept its pledge and held fast ― he included, "I love you. Tune in to mother."
Administrators appeared to perceive that their words may characterize them for the remainder of their lives. In that soul, numerous Democrats embraced a loftier tone.
"We are being tried on an option that is more prominent than our capacity to toe a partisan loyalty," said House Rules Chairman Jim McGovern (D-Mass.). "Something more than our capacity to score the following extraordinary TV soundbite. This is a majority rules system vital turning point."