A SWAT officer in Broward County, Florida, has been downgraded after he was shot wearing a QAnon paranoid notion fix when he welcomed Vice President Mike Pence on Friday at Fort Lauderdale-Hollywood International Airport.
On his uniform, Matt Patten wore a fix perusing "Question the Narrative," which was not approved by the Broward County Sheriff's Office, as per the Miami New Times.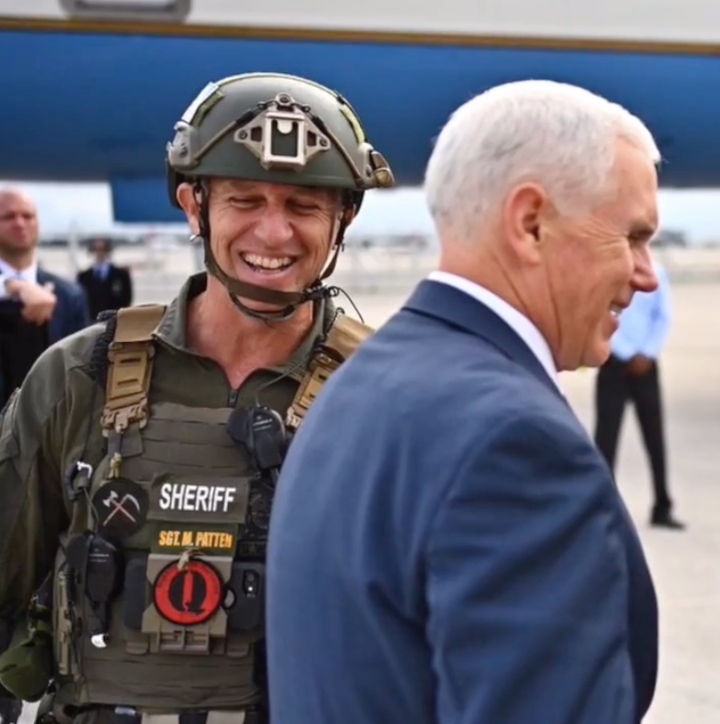 On Monday, the Broward County Sheriff's Office issued a composed upbraid to Patten, expressing that the QAnon paranoid idea was "questionable" and influenced the sheriff's office to appear "one-sided" politically.
"This brought about negative repercussions on a national stage as a contention for the Broward County Sheriff's Office, the County, the SWAT group, and Sergeant Patten," the revile read.
Patten was expelled from the sheriff's office's vital examinations division's Office of Homeland Security and from the organization SWAT group, said Broward County Sheriff's Office representative Veda Coleman-Wright.
He will currently be reassigned to the Department of Law Enforcement, she told nearby station WPLG TV.
For those not up to date, the strange and questionable QAnon paranoid notion proposes Donald Trump is really working with uncommon advice Robert Mueller to reveal an underground government intrigue of tip-top liberal and Hollywood pedophiles.
In the end, the hypothesis goes, a cluster of high-positioning Democrats will wind up detained at the Guantanamo Bay U.S. military office in Cuba.
As of late, NBC News notes, QAnon adherents have purportedly been engaged with a thwarted presidential death plot, an overwhelming California out of control fire and an equipped standoff with neighborhood law implementation in Arizona.